1st TAL National [Online] Criminal Law Judgement Writing Competition, 2020
---
1st TAL National [Online] Criminal Law Judgement Writing Competition, 2020.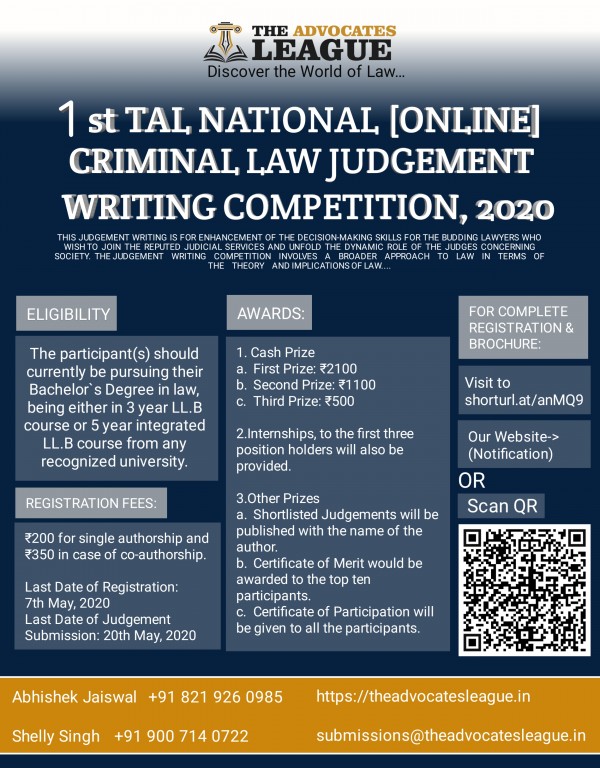 This is the 1st edition of the TAL National [Online] Criminal Law Judgement Writing Competition, 2020. This Judgement Writing is for enhancement of the decision-making skills for the budding lawyers who wish to join the reputed Judicial Services and unfold the dynamic role of the judges concerning society.
 The Judgement Writing Competition involves a broader approach to law in terms of the theory and implications of law. Judgement writing is not an ordinary task, the right interpretation and avoiding vague opinions is of utmost importance in a rational judgement.  Moreover, the greater emphasis is on paving the way for legal argument and writing judgements on facts and situations with legal precedents.
The annexure might seem bamboozling but they will make you learn law and will enable us to judge your true knowledge and research in writing. The Judgement shall cover all these aspects of evidence and crime.
ELIGIBILITY
 The participant(s) should currently be pursuing their Bachelor`s Degree in law, being either in 3 year LL.B course or 5 year integrated LL.B course from any recognized university.
In one team not more than two participants are allowed.
Note: A team comprises of two students from different colleges are also eligible to participate in the competition.
REGISTRATION:
Form:
The registration shall be done through a
google form
.
(Click here)
Individual Registration: Every participant must register individually. Meaning thereby, in case of co-authors, both the participants of a team but have to register separately.
Fees: ₹200 for single authorship and ₹350 in case of co-authorship.
Mode of Payment: Registration Fees should be paid online. Kindly take the screenshot of payment ID for reference.
Post Registration: A confirmation mail will be sent, on the registered Email ID of the participants, on approval of registration.
PAY via Paytm, Google Pay or Phone Pay:
+91 907 937 2188 or
UPI ID: mehulchoudhary138@okhdfcbank
or QR Code (Click Here)
Note: Do provide the Transection/Payment ID and the screenshot of the same on the Google Form Application.
First Prize: ₹2100
Second Prize: ₹1100
Third Prize: ₹500
2. Internships, to the first three position holders will also be provided.
Shortlisted Judgements

will be published with the name of the author.

Certificate of Merit

would be awarded to the top ten participants.
Certificate of Participation

will be given to all the participants.

  
QUERIES RELATING TO THE PROPOSITION:
All quires and clarification regarding the proposition must be E-mailed to the Organizing Committee on

submissions@theadvocatesleague.in
.
SUBMISSION:
Last date for submission of the Soft copies: 20th May, 2020.
Submit Your Judgement on submissions@theadvocatesleague.in with Subject " Judgement Writing Submission", your Name, college name, Team Code (It will be provided by us after registration) and Contact No.


| | |
| --- | --- |
| REASON | DATE |
| Last Date of Registration | 07th May, 2020. |
| Last date for Releasing of Team codes | 10th May, 2020. |
| Last Date for Queries regarding rules of the competition | 12th May, 2020. |
| Last date for submission of the Soft copies | 20th May, 2020. |
| Results | 01st June, 2020. |
COORDINATORS:
| | |
| --- | --- |
| NAME | CONTACT NUMBER |
| Abhishek Jaiswal | +91 821 926 0985 |
| Shelly Singh | +91 900 714 0722 |