TAL: 4th Webinar by Hon'ble Mr. Justice Kurian Joseph
---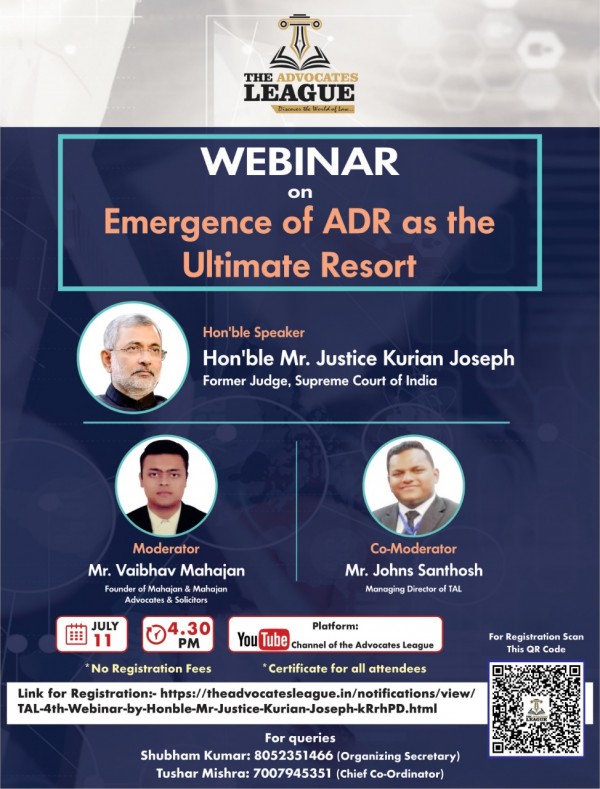 About the speaker
The Chief-Guest & Speaker of the Session shall be - Hon'ble Mr. Justice Kurian Joseph, Former Judge, Supreme Court of India.
Topic : "Emergence of ADR as the Ultimate Resort"
Date: 11th July, 2020
Time: 04:30 PM
This is a great opportunity for all of us. I would also request you to share this message as much as possible for making this event a huge success.
*Note: There is no registration fee for attending the webinar. Participants will also get certificate of participation; no additional fee will be charged.
Webinar will be hosted through The Advocates League (YouTube Channel). (Click here)
Important dates
Last date for registration: 10th July, 2020 (11:59 PM)
Date of Webinar: 11th July, 2020 , 04:30 PM
Johns Santhosh (Managing Director, TAL)
Contact no. (+91) - 9961884991
(Organizing Secretary/ Vice-President,TAL)
Contact no. (+91) - 8052351466
E-mail: theadvocatesleague.events@gmail.com