PATRIARCHY AND ARMY'S PERMANENT COMMISSION
---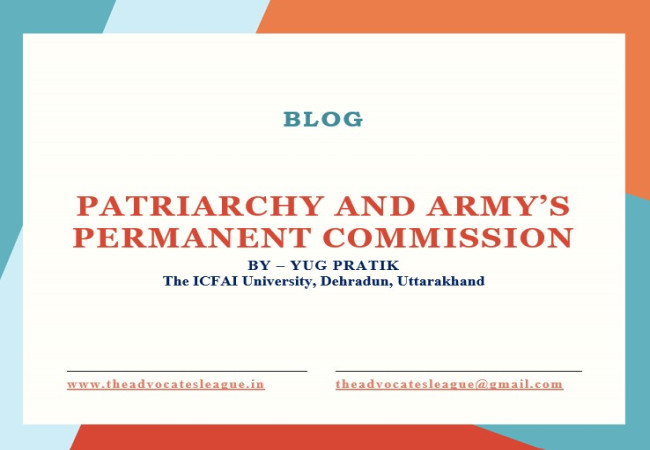 Introduction
Getting a chance to serve the nation by being a part of the revered and radiant Indian Army implies immense pride and honour. Joining and rendering service in Indian Army brings respect, builds confidence and bestows core values of discipline, punctuality and integrity to an individual. The armed forces have set up two types of commissions for inducting people into their service, which are to be chosen by the candidates at the time of application. They are – 
Permanent Commission (PC)

Short Service Commission (SSC)
A 'permanent commission' in Indian Army refers to providing service in the army, as a soldier or an officer, till the age of retirement i.e. 60 years. It is distinct from the 'short service commission' which allows service by the employees for a stipulated time period ranging from 8 to 14 years. The opportunities for promotion under this commission are quite sizeable, extending up to the rank of Army General. Moreover, perks and allowances provided to the persons employed under this commission are also fairly ample. Though, similar provisions for perks and allowances exist under the short service commission, it is not that rewarding in terms of promotion opportunities.
There are multiple ways prescribed for joining the permanent commission. Some of them are mentioned hereunder – 
National Defence Academy (NDA)

Combined Defence Service (CDS)

Air Force Common Admission Test (AFCAT)

Indian Navy Entrance Test (INET)

National Cadet Corps (NCC) Special Entry
Paving ways for women
A few decades back, even the army was plagued by notions of patriarchy. For many years since independence, the armed forces units were reluctant to include women as employees. Though security and physical incompetence were the main contentions put forward, motherhood, pregnancy and familial responsibilities were also mentioned as considerable hindrances to the employment of women in the armed forces.
These veils of patriarchy were lifted in 1992 by making ways for employment of women in the army for the first time through Women Special Entry Scheme. However under this scheme, women were allowed service in the army for a period of 5 years only, and that too under certain specified sectors such as the Army Education Corps, Corps of Signals, Intelligence Corps and Corps of Engineers. Moreover, women recruited under this scheme were provided pre-commission training for a relatively shorter period, in comparison to their male counterparts recruited under the short service commission.
In 2006, the scope of recruitment under short service commission was extended to include women also. Through this provision, women employees were allowed to provide their service in the army for a period of 10 to 14 years. Those recruited under WSES were granted an option of either to opt for SSC or continue their services under the same scheme. However, employment under the SSC was also restricted to the fields mentioned above, making women a victim of inferiority complex.
Another development took place in 2008, when the Ministry of Defence passed an order that granted PC to women officers employed in Judge Advocate General (JAG) and Army Education Corps (AEC). However, it was challenged in the Delhi High Court on the ground that it granted PC prospectively and to certain specified streams only. The scope of inclusion of women officers in PC was further expanded by another order of the Ministry of Defence in 2019 which, besides JAG and AEC, provided for eight other streams whose women employees will be eligible for PC. They are – 
Army Air Defence

Signals

 Engineers

Army Aviation

Electronic and Mechanical Engineers

Army Service Corps

Army Ordinance Corps

Intelligence Corps
However, women officers were still restricted to staff positions and were not allowed command posts and operation charges.
Indispensable role of the Judiciary
Time and again, the role of Courts has been very crucial to curb the gender biasness and to bring women officers at par with male officers in the armed forces.
In 2019, the Honourable Supreme Court held that "the need for change in mindsets to bring about true equality in the army must be emphasized." Further, it was clearly stated by the Apex Court that women in the army are no more restricted to provide service in staff units. This paved way for women towards similar training multiple promotional opportunities.
Further, in the recent and landmark case of Lt. Col. Nitisha & Others v. Union of India, the Supreme Court held that – 
"The importance of this case lies in the fact that the grant of permanent commission of women officers was exteriorly neutral but indirectly discriminatory."
Through this case, presided over by Justice D.Y. Chandrachud and Justice M.R. Shah, the Apex Court highlighted the need for substantive equality and articulated an alternative model for discrimination and equality.
Conclusion
The army is the pride of the nation and has the duty to stand firm on the expectations and faith of the latter. Reluctance towards acceptability of women at certain designations in the army however raises strict questions against its righteousness. Moreover, refraining women from holding superior ranks and confining their abilities to limited areas of service on the basis of vague and arbitrary grounds, is violative of the principles of equality enshrined in the Constitution of India.
Patriarchy and gender inequality are the issues that go hand-in-hand and have their effect on almost every aspect of life. The idea of a progressive army, accepting women at par with men is not something that can be achieved in a day or two. However, the initiatives taken by the judiciary towards this purpose is commendable, and can be considered as a fair beginning. Proper legal concern can genuinely aid in bringing the necessary gender reforms in the army. Overall, it is the responsibility of the senior military and political leadership to promote the values of gender parity within the armed forces and introduce significant changes in the norms and values of rank in the armed forces.