ELDER ABUSE IN INDIA
---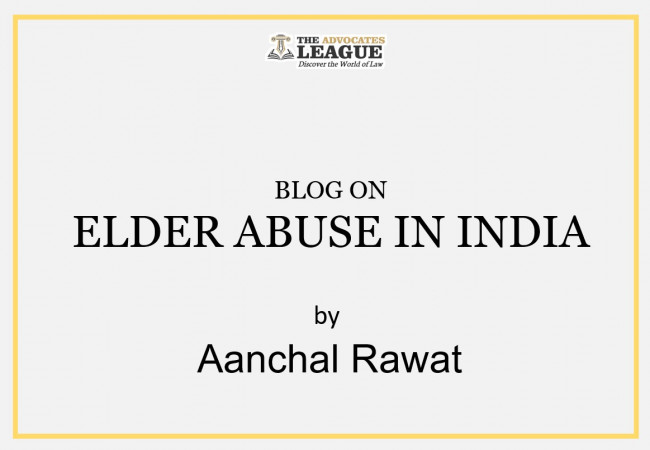 ELDER ABUSE IN INDIA
Introduction
With the increase in life expectancy, people are living more and more. With this increase in life expectancy, new risks and challenges have also arisen. As people grow old, their working capacity decreases, and they retire. When they need support, they are harassed by their children and other family members for their property and savings.
Elder Abuse
Elder Abuse is a single or repeated act or lack of appropriate action, occurring with a relationship where there is an exception of trust which causes harm or distress to an older person.[1]
Types of Elder Abuse
The National Center on Elder Abuse recognizes seven types of elder abuse.[2] They are:
1. Physical abuse 
Physical force used against an elderly person can result in bodily injury, impairment, or pain.
2. Sexual Abuse 
Non - Consensual sexual contact is done with elderly people.
3. Emotional Abuse 
Through verbal or non-verbal acts, pain, distress, and anguish are inflicted upon elderly people.
4. Financial Abuse
Use of elder's funds illegally or by using improper means. 
5. Neglect
Failure in fulfilment of obligations or duties towards the elderly person.
6. Abandonment 
Desertion of an elderly person, by an individual who has the responsibility to provide care to the elderly person.
7. Self-neglect
Such behaviour of the elderly person threatens the elder's health and safety.
Signs of Elderly Abuse 
Some of the signs which show that an elderly is being abused are: 
● Unexpected weight loss
● Dehydration
● Poor physical appearance
● Signs of injury seems many times
● Not speaking as usual
● Affect in mental health
Health Consequences
Due to abuse, an elderly person's quality of life can be destroyed. Some of the forms in which their lives can be destroyed are:
● Malnutrition
● Depression
● Dementia
● Bedsores
● A decrease in functional abilities
● Stress, 
● Feeling of helplessness
● Increase in dependency
The risk of death of elder abuse victims is three times higher than that of non-victims.[3]
Abuser
 An Abuser can be anyone. It can be a spouse, family member, friend, neighbour, volunteer worker, paid worker, practitioner, solicitor, or any other individual who has the intent of depriving a vulnerable person of their resources.
The perpetrator of elder abuse can be anyone whom an elderly person has trust. Sometimes when an elderly person lives alone or does not have his children then the perpetrator tries to "groom" an elderly person. And when they are perfectly groomed then they are exploited.
Risk factors for Elder Abuse
 The elderly people who come under the following points have a higher risk of elder abuse than others.
● An elderly person suffering from Dementia,
● An elderly person having physical disabilities,
● An elderly person who is depressed, are lonely or they have lack of social support,
● An elderly person who is verbally or physically combative with the caregiver.
For the following reasons a caregiver can become an abuser:
● He is feeling resentful,
● He is an abuser or has a history of being an abuser,
● He is dependent on an elderly person for his living, finances, and other needs.
● He had a criminal history
● He is unemployed
● He has a mental illness. 
Research
In "A HelpAge India Research Report – 2015" which was conducted by (MaRS) Monitoring and Research Systems Private Limited, the following findings were obtained.
● 73% of youths accepted that elder abuse exists.
● 'Property and inheritance disputes' were the main reason for abuse at 53.2%. 
● And 35.7